« Miguel Serdoura, the new prince of the lute. »

Ernst Van Bek, Classiquenews.com, 2011, France
Le Parnasse François: Les Rois de Versailles. By Alte-Musik Forum, December 2014.
---
le parnasse françois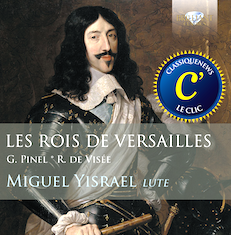 If you ask the average German early music lover about the king of instruments, they will probably name the organ, the epitome of majestic sound, with a single musician being able to produce orchestral effects. In 17th-century France an instrument was mostly considered the king which in many respects is the complete opposite: the lute. It was the instrument of the Kings of France, who had their own chamber lutenists, and no musician was closer to them. Musically speaking, they were, in a certain sense, the "Kings of Versailles". Miguel Yisrael, who hereby submits his fourth production with Brilliant Classics, has described the situation at the court and the significance of its lutenists vividly in his very detailed accompanying text; his recordings come out every two years, and it is quite obvious how diligently he prepares them.
It is particularly gratifying that he presents three suites by Germain Pinel, most of which as world premiere recordings. Pinel was the lute teacher of the young Louis XIV, who, as referred, in fact preferred the guitar and dancing, yet later on gave him a well-endowed job. Nowadays 78 pieces and eight preludes are attributed to Pinel, most of which are to be found in a manuscript in Schwerin; his style has accurately been described in other contemporary sources, namely the lute textbook of an English lady, as "cheerful and airy", is chordally slightly denser than the lute music of a Dufaut or Gaultier, more rhythmic. The fact that it has been transcribed by harpsichordists more often than that of his colleagues and that it is perhaps of greater influence is immediately comprehensible. His style is very individual and clearly contrasting to all that has been recorded as far as French lute music of that time in concerned, and therefore this recording is a great and unique addition to that repertoire. Pinel's pieces are indeed a bit livelier and obviously also technically very demanding. Furthermore they are less influenced by the typical, almost flowery phrases and figures of the rest of the French lute repertoire.
In contrast, the music of Robert de Visée, who was born after Pinel's death, takes the listener to a later time; he has composed a lot for the baroque guitar or theorbo. Yisrael chose the recorded suites because they were explicitly intended for the lute - probably this is the reason why his D minor Suite had never been recorded before; but it illustrates de Visée's close connection to the ancient lute tradition he had studied thoroughly.
Miguel Yisrael's performance is, as usual, stylistically assured, insightful and clear, perfect in the contrasting choice of tempo and emotional representation – you may e.g. listen to the almost swinging phrasing of the CD's final Chaconne; the hall of a French Chateau as the venue of the recording is of adequate ambiance. A new release to be recommended in every way helping the unjustly neglected composer of personal style and high quality – Germain Pinel – receive the attention he deserves. The only drawback is the music fading away much too soon after a short hour.
Read more