awake sweet love
Awake Sweet Love, an Anthology of Lute Music [Release date: May 2013]
---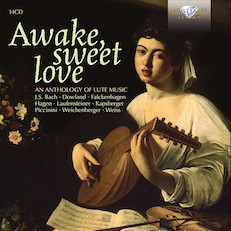 COMPOSER: Falckenhagen, Piccinini, Scheidler, Kellner, Gaultier, Couperin, Kapsberger, Purcell, Bach, Hagen, Dowland, Weichenberger, Gallot, Saint-Luc, Weiss, Lauffensteiner.
RELEASE DATE: May 2013
FORMAT: 14 CD Jewelcase
CAT. NUMBER: 94710
EAN CODE: 5028421947105
ARTIST: Miguel Yisrael, Nigel North, Christopher Wilson, Jakob Lindberg, etc.
about this release
Drawing together various previous releases from the Brilliant Classics collection, this compendium pays tribute to an instrument that was once at the forefront of everyday music making, tracing its extensive and highly fruitful career.
The lute counts among its writers some of the greatest names in music history, and indeed the anthology contains a large corpus of music by John Dowland – one of Britain's most prolific Renaissance composers. His extraordinary varied music is accompanied by the likes of Henry Purcell, who rounds of the compilation, and by Johann Sebastian Bach, whose lute offerings represent the florid repertoire of the courtly salon music then in vogue. Interspersed between these big names, however, is a rich catalogue of works that are the missing links to understanding the development of lute music and of music in general; while Miguel Yisrael's Les Baricades Mistérieuses program recalls the dominance of the French school during the 17th century, Germany appears to have taken over as the new centre of European lute music by the mid-18th century, as evidenced by the rich culture of music making at the court of Bayreuth (CD12). Here a more galant, or cantabile expression of music was developing, and in Austria, too, lute music – particularly the lute trio – was seen as a precursor to the emergence of Viennese Classicism and the establishment of the new Empfindsamer style.
The collection contains a wealth of lutenists, all of whom are at the top of their profession and enjoy international careers. Guaranteed to provide hours of engaging listening, this release records an essential but often-overlooked facet of music history and is a must-buy for anyone with an interest in string repertoire.
further information
Recorded in 1988–2012
A substantial and rewarding Anthology of lute music, the only serious set in the market.
French liner notes available online.
The lute, with its gentle, soothing and melancholy string timbre, has touched many a heart string in its long history. It was an instrument of courtship and many love songs were accompanied by the sonorous tones of the lute. Great composers wrote extensively for the instrument, and this set contains the complete works of the master of the genre: John Dowland, as well as the complete lute works of Johann Sebastian Bach, works of de Visée, Kapsberger and other major and Minor masters.
Excellent performances by the world's top lutenists, including: Miguel Yisrael, Jakob Lindberg, Nigel North, Christopher Wilson and others, having won many international record awards (among others a Diapason d'Or).
Contains extensive notes on the music and composers.
tracklisting
Robert De Visée (c. 1650-1665 - after 1732)
Dowland: Complete Lute Music
J.S. Bach: Complete Lute Music
Piccinini: Intabulations for lute & chitarrone
Kapsberger: First Book of Tablature for Lute, 1611
Lauffensteiner & Weichenberger: Partitas
Les Baricades Mistérieuses: Kellner; Weiss; Couperin; Saint‐Luc; Gaultier; Gallot
The Court of Bayreuth: Hagen; Falckenhagen; Scheidler
Dowland: The First Book of Songs
Purcell: Songs