feedback
There
is nothing to compare it with. Perhaps some of M. Serdoura's teacher Hopkinson Smith recordings of Ennemond Gaultier--if you have been so fortunate to hear these--, might prepare you for the experience.
Meyrmex (USA, 2015)
It´s
simple, I acquired all of his recordings, that says it all! Praise from the press are well deserved for this transmitter musician.
G. Simon (France, 2014)
It´s
fantastic and very moving! It reminds me of Glenn Gould playing the Goldberg variations. Thank you again!
Harald Gerstmayer (Germany, 2012)
A
fantastic CD. A very subtle blend of delicacy and virtuosity. A true heir of Hopkinson Smith.
Francisco Rosado (Portugal, 2009)
I
wish you to record more amazing music! It's a true time travel and mini brain surgery for me! You are the best lute player since Michael Schaeffer (1937-1978).
James K. (USA, 2009)
Yes,
it is worthy of his teacher Hopkinson Smith. The same clarity and musicality. Nice mix!
Peter Eichenau (Germany, 2009)
Read More
biography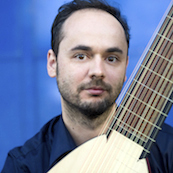 Miguel Serdoura was born in Lisbon, where he began his musical and artistic career, earning his Diploma in Classical Guitar in 1994.
From 1999 to 2004, after studying the lute at the Paris Conservatoire, with Claire Antonini, Miguel Serdoura completed his musical education with the grand maestro Hopkinson Smith in Basel, Switzerland, at the Schola Cantorum Basiliensis. Read More