austria 1676
Wolff Jacob Lauffensteiner & Johann Georg Weichenberger. [Release date: April 2012]
---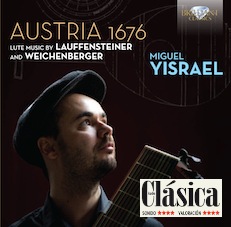 COMPOSER: Wolff Jacob Lauffensteiner (1676–1754), Johann Georg Weichenberger (1676–1740)
RELEASE DATE: April 2012
FORMAT: 1 CD Jewelcase
CAT. NUMBER: 94331
EAN CODE: 5028421943312
11C BAROQUE LUTE: Miguel Serdoura
about this release
1676 was an important year for European lute music -- Thomas Mace published his famous volume Musick's Monument, and the two Austrian composers and lutenists Wolff Jacob Lauffensteiner and Johann Georg Weichenberger were born. Although these composers' works were stylistically similar to the German school of lute music, they carved out a distinct and independent Austrian movement; this new recording by acclaimed lutenist Miguel Serdoura celebrates their achievements through a programe dedicated to their partitas.
Lute music was, in fact, a central part of Austrian culture in the 17th and 18th centuries: the Habsburg's, for example, played the instrument and employed virtuoso musicians to compose and perform for them. In addition to this, Lauffensteiner and Weichenberger were also exposed a wealth of stylistic influences, primarily the intricate French style of lute playing and the emerging Italian style, which featured a greater emphasis on melody. This rich combination of influences is embodied in their music -- idiomatic works blending French textures with song-like melodies that foreshadow the 18th-century gallant style.
This recording is a valuable snapshot of the uniquely Austrian style of lute playing that Lauffensteiner and Weichenberger established. Miguel Serdoura's performances demonstrate a deep resonance with this repertoire, and reveal his exemplary approach to the technical and stylistic intricacies of his instrument.
further information
New recordings made in October 2011
Includes booklet notes in English and German
A new fascinating concept by acclaimed lutenist Miguel Serdoura who received highest praise (Diapason d'Or in France) for his earlier innovative programs: Les Baricades Mistérieuses (BC 93701) and The Court of Bayreuth (BC 94026)
tracklisting
Wolff Jacob Lauffensteiner (1676–1754) *
Partita in G Minor: I. Andante - 02:40
Partita in G Minor: II. Aria - 02:56
Partita in G Minor: III. Courante - 03:05
Partita in G Minor: IV. Largo - 03:33
Partita in G Minor: V. Menuet - 01:28
Partita in G Minor: VI. Gigue - 02:52
Wolff Jacob Lauffensteiner
Partita in C Minor: I. Tombeau - 05:27
Partita in C Minor: II. Courante - 01:56
Partita in C Minor: III. Sarabande - 02:52
Partita in C Minor: IV. Bourrée - 01:09
Partita in C Minor: V. Menuet - 01:02
Partita in C Minor: VI. Gigue - 01:14
Johann Georg Weichenberger (1676–1740) *
Partita in B-Flat: I. Symphonia - 03:04
Partita in B-Flat: II. Passepied - 01:20
Partita in B-Flat: III. Aria - 04:33
Partita in B-Flat: IV. Bourrée - 02:02
Partita in B-Flat: V. Menuet - 01:28
Partita in B-Flat: VI. Gigue - 02:09
Johann Georg Weichenberger *
Partita in C: I. Allemande - 03:29
Partita in C: II. Courante - 01:38
Partita in C: III. La Petite Bourrée - 01:18
Partita in C: IV. Menuet - 02:09
Partita in C: V. La Grande Gigue - 02:39
Wolff Jacob Lauffensteiner *
Partita in B-Flat: I. Entrée - 04:16
Partita in B-Flat: II. Courante - 02:16
Partita in B-Flat: III. Sarabande - 03:39
Partita in B-Flat: IV. Bourrée - 01:38
Partita in B-Flat: V. Menuet - 02:02
Partita in B-Flat: VI. Gigue - 01:36
Total timing: 72'12
* World premiere recordings