---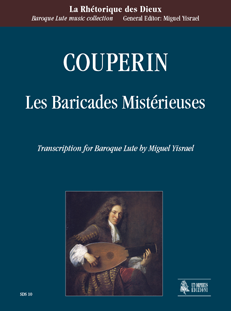 About this release
As in many of his pieces, Couperin shows a firm affection for the style luthé. Furthermore, his colleague Robert de Visée transcribed numerous of that great harpsichordist's pieces for the theorbo. Incidentally, one can easily imagine both musicians during the intervals of chamber concerts given on behalf of Louis XIV, exchanging musical ideas, masterly achievements and drafting respective transcriptions...
The lute doubtlessly provides additional effects and tone colors to this beautiful piece. The tessitura matches that of the lute perfectly, and it can even played in the original key of B flat major.
about the collection
After the great success found with the publication of his Method for the Baroque Lute, Miguel Serdoura was asked by Ut Orpheus to create a new collection of music scores devoted entirely to the baroque lute : La Rhétorique des Dieux was born !
The transcription of Couperin's 'Les Baricades Mistérieuses' was only the prelude to other scores published (and yet to be published) by Michel Cardin [Sonata No. 11 in A major (S-C 16) - Sonata No. 15 in F minor (S-C 21)] for Baroque Lute, from Sylvius Leopold Weiss ; Michael Treder [Partita in F major (from the Buenos Aires Ms.)] for Baroque Lute, from Georg Adalbert Kalivoda or Markus Lutz (Weischenberger Lute Concertos) and Joël Dugot (3 volumes dedicated to the french baroque lute music).
All the editors working for the collection are eminent lute players or lute history and repertoire specialists.
We hope this collection will enlarge as much as possible the playing of the baroque lute.
Order